Beverly Hills Periodontics & Dental Implant Center
As the home of the leading periodontist in Beverly Hills, Beverly Hills Periodontics & Dental Implant Center is here to help people of all ages and from all walks of life. We provide our patients with access to a leading specialist in the fields of periodontics and dental implantology, an outstanding team of dental professionals, and a state-of-the-art facility. Dr. Peiman Soleymani brings world-class knowledge and skill to all of his work on behalf of patients, having served as an educator, and as an active member of the West Los Angeles dental community since the early 2000s.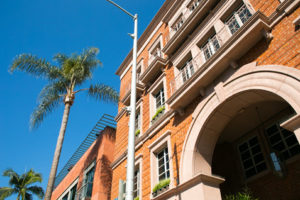 Widely considered the best periodontist in Beverly Hills, Dr. Soleymani boasts broad experience in treating all forms of gum disease. Gingivitis and periodontitis are often silent diseases which can cause serious oral health issues and can possibly be associated with other serious medical issues; the doctor has the vast knowledge and the necessary skills needed to treat these diseases while preserving and maintaining a beautiful smile for patients.
Dr. Soleymani is also a top Beverly Hills specialist in the area of dental implantology. When teeth are lost due to advanced decay, serious gum issues, or trauma, dental implants are the gold standard. Not only are they the most convenient and attractive solution for replacing teeth, they also have important benefits in terms of both oral and overall health.
Dr. Soleymani's patients know that he is more than just another Beverly Hills cosmetic dentist; he is a nationally renowned specialist who strives every day to treat his patients with world class dental treatment.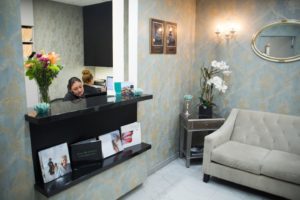 Since opening our doors in 2007, our Los Angeles periodontist office has grown every year, and today, we offer a variety of options for state-of-the-art care that are truly unique to a periodontal specialty office. For example, digital radiography provides immediate and accurate imaging when preparing for periodontal and dental implants.
Our advanced digital x-ray technology assists in providing excellent results in a variety of treatments ranging from periodontal plastic surgery to aesthetic crown lengthening cases.
The guided surgery methods we employ makes our dental treatment unique amongst our peers by allowing us to place implants with CADCAM (computer assisted) imaging.
We also provide growth factors to eligible patients, which have been found to help alleviate or heal a number of dental maladies.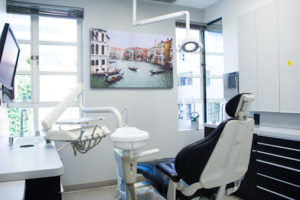 By using innovative methods and top quality tools, we're able to accurately diagnose and successfully treat everything from mild to severe cases, all the while avoiding unnecessary treatments and costs to our patients. That's why we're celebrated throughout the Southland as the periodontist Los Angeles trusts first and foremost. In addition to conventional periodontal therapy, we offer safe and effective laser surgery for cases that warrant such treatment. Successful results for our patients is our #1 priority, which is why we only utilize top quality dental implant brands such as Nobel Biocare, Biomet 3I, and Straumann. With the advent of today's technology, at Beverly Hills Periodontics & Dental Implant Center, we are now capable of treating many different cases via replacement of poor prognosis teeth by using immediate implants. With our dental implants, for example, a patient can have a tooth replacement without having to worry about wearing something removable.
Next
Testimonials
Previous
Dr. Soleymani and his staff (especially Kim!) are the best! I had to have three teeth extracted and then wait six months for dental implants. I'm telling you, he is amazing! It's like going to a high-end concierge Periodontist. They tell you what to expect, how long it will take, they organize your prescriptions and get everything ready before you even have the procedure. Dr. Soleymani is very kind, very polite, professional, well-mannered and SMART. I've never written a review on Yelp before but because I like them so much, I really wanted to. If you need a periodontist, call this office. I actually looked forward to going there. By the way, my teeth look amazing!

Maureen B.
Beverly Hills Periodontics & Dental Implant Center is the best place for dental chickens like me. It starts with the front desk, Kim is amazing. She is super friendly and she breaks down the cost of everything so that there are no surprises. When she's not at the front desk, the other ladies are professional and equally as friendly. As for Dr. Soleymani, all I can say is thank you! My mouth is healthier than it has been in years. I was so intimidated by the entire implant procedure, but your patience in explaining every step and your caring demeanor quickly erased all of my apprehensions. Thank you again for giving me my smile back!

Gloria L.
Dr. Soleymani is an amazing periodontist. He did 2 implants when I was told in the past that it would not be possible. He. Kim and the entire staff are extremely caring and very thorough. He is gentle, caring and exceptionally skilled. I am thankful for the treatments I have received from him.

Jane D.
Dr. Soleymani is a caring, concerned professional who takes the extra steps from beginning (consultation) to end (post-procedure follow up) to ensure the patient is fully informed, as comfortable as possible, and not burdened with anything other than following the Doctor's orders. Wonder of wonders in this day and age, Dr. Soleymani makes it a point to personally follow up with his patients. When's the last time your doctor/dentist called you to find out how you were doing?? The office staff, especially Kim, are knowledgeable, cheerful and understanding. They take care of the details of scheduling, prescriptions, insurance, billing, etc., freeing the patient up to do nothing but heal. I feel very fortunate to have been referred to Dr. Soleymani by my regular dental professional. Thank you to all of you.

Julie E.
I recently had surgery by Dr. Sulayman and I cant say enough great things about him. He was very warm and sat with me to answer my questions so patiently. I didnt feel rushed at all. The surgery went really well and I am very happy with the results. The offices are clean and the front desk staff are very helpful, Overall a great experience,

Noorull
I needed a tooth implant in my left lower jaw and was truly apprehensive about the procedure. Dr. Soleymani and his wonderful staff put all my doubts to rest by first of all, thoroughly explaining the procedure to me, step by step. All my questions were answered in detail. My fears were all unfounded ... once I put myself in his competent hands, all nervousness vanished and truly, he is one of the kindest, gentlest periodontist I have ever met and will ever meet. My implant is in and I wonder now why I procrastinated so much?! Kim is just amazing and though I do not know the technicians, they reflect the same attitude as Dr. Soleymani. I would highly recommend him.

Aban Commissariat
I was immediately impressed with how attentive and knowledgable the dr and his staff are (Kim the receptionist is so kind and quick to answer any questions via email or phone... Really just goes above and beyond). Dr soleymani looked at my case and provided a faster and much more affordable treatment plan for me than my doctor in Seattle had. I was eager to get the procedure done before the holidays and they fit me in the next week. My implant procedure was quick and perfectly done by the dr and the recovery process has been smooth and relatively pain free. I could not be happier with my results so far and highly recommend dr soleymani.

Chloe B.
I just recently had the permanent crown placed on my implant and went to my final appointment check-up, and the doctor says I'm good to go! He just wants to see me in a year to make sure everything still looks good. I can honestly say that the world needs more doctors like Dr. Soleymani.

Fereshteh F.
Dr. Soleymani and his staff are excellent. I had such a great experience here. I had a discoloration on my gum. It looked like there was food in between my teeth. Dr. Soleymani used a laser to remove the spot and after a few weeks of healing my gums look fabulous! The procedure did not hurt at all and he was so gentle with me. I could not ask for better. Besides the great success with my gums his staff is amazing. So nice and inviting, always making sure you are comfortable and asking if you need anything.

Brittany A.
I had a large gap on the lower left area where there was two missing teeth. Dr. Soleymani did two dental implants for me back in 2005 with very little discomfort. I have had those implants eversince and they are doing great. He is very skilled at what he does.

Juliet B.
A Brief Overview of Our Services
Beverly Hills Periodontics & Dental Implant Center specializes in two major forms of dentistry, periodontics and dental implantology:
Periodontal
Periodontal Disease Treatment – Treatments for moderate to severe gum disease can range from scaling and root planning to a variety of gum surgical procedures.
Osseous Surgery – Osseous surgery is recommended when less involved treatments for gum disease are unsuccessful. This treatment entails the complete debridement (removal) of inflamed and infected tissues and recreating a healthier microbiological oral environment.
Crown Lengthening – This procedure lowers the gum line for both cosmetic and functional purposes. It is particularly useful for limiting the need for tooth extractions due to decay or some fractures.
Bone and Soft Tissue Grafting – Soft tissue grafting is often effective for restoring gum tissue to a healthy state. Bone grafting, as the name implies, is effective for restoring hard tissue, improving the prognosis of teeth and preventing tooth loss as a result.
Dental Implants
Extractions and Site Preservation – There are a number of reasons for teeth to be extracted, but common causes include loose or broken teeth, severe infections, and decay. When teeth are extracted, it becomes necessary to preserve the site so as to avoid further complications such as excessive bone loss and preservation of adjacent teeth.
Ridge Augmentation – For implant placement, it is imperative to restore bone foundation before dental implant placement in cases where this foundation is not adequate.
Sinus Augmentation – In its posterior region, sinus anatomy runs very low and does not leave an adequate amount of bone foundation for dental implants for the maxillary (upper) jaw. Soleymani has the skill, knowledge and the most advanced technology at his practice to create the required bone foundation in these types of scenarios.
Single and Multiple Implants – Missing teeth are more than embarrassing; they can lead to serious medical complications. Implants can restore self-confidence and prevent or limit issues like bone loss. Because they are essentially the same as natural teeth, they are also the most convenient and attractive solution.
Immediate Dental Implants - Same day implants can be provided as an option in many cases using the most advanced technology if the case meets certain criteria.
All-on-Four, All-On Six – This can be an outstanding option if there is full mouth gross decay, very advanced periodontal disease, or if a patient is already wearing ill-fitting removable dentures. With these implants, patients can enjoy a fixed (non-removable) prosthesis using four, six, or more dental implants with the benefits of high quality of chewing function and oral health.
With the advent of today's technology, at Beverly Hills Periodontics & Dental Implant Center, we are now capable of treating many different cases via replacement of poor prognosis teeth by using immediate implants. With our dental implants, for example, a patient can have a tooth replacement without having to worry about wearing something removable.
We also provide:
Digital X-Rays, which have much less radiation than conventional radiographs, while making your dental implant experience much more convenient overall.
Dental Laser Therapy, which allows us to provide the highest quality care where it may be preferred over conventional periodontal surgical treatment.Piezotome, a very noninvasive dental surgery technology used in bone grafting and even teeth extraction and dental implants.
Piezotome allows for faster healing and is notably atraumatic, meaning it is known for causing minimal tissue injury.
Today, dental surgeries like gingivectomy, crown lengthening and dental implants have become highly-regarded as essential for those seeking a smile that is truly aesthetically pleasing. Whether you are a patient or a referring doctor, we proudly welcome you to our Beverly Hills periodontist facility. Don't allow self-consciousness with your smile, or the devastating effects of gum disease, get in the way of your goals. Contact us today at the Beverly Hills Periodontics & Dental Implant Center, and look forward to truly first-rate dental treatment.