For dental patients suffering from periodontal disease Los Angeles is a city with few cost-saving options for quality dental care. Fortunately, in Beverly Hills Periodontics &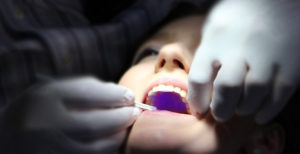 Dental Implant Center, people who are afflicted by gum disease will discover a first-rate dental treatment institution that boasts affordable pricing and yields excellent results.
Beverly Hills Periodontics & Dental Implant Center has earned the reputation as a leading dental treatment institution for periodontal disease in Beverly Hills since 2007. We continue to expand and flourish as a company in large part due to the continued loyalty of our patients. Beverly Hills Periodontics & Dental Implant Center primarily offers immediate dental implants for missing teeth, and world-class treatment for periodontics, or gum disease.
Periodontal Disease Treatment
Roughly half of all Beverly Hills Periodontics & Dental Implant Center's patients are plagued by moderate to severe gum disease. Once periodontal disease is diagnosed, our leading Beverly Hills periodontist firm may initially recommend nonsurgical treatments such as scaling and root planning, depending on the severity of the case. Under local anesthesia deep pockets are thoroughly debrided and cleaned, and the roots are smoothed. The smoothed planned roots make it more difficult for the plaque to adhere back to the roots and worsen the periodontal condition. Generally, two quadrants are scaled and root planned under local anesthesia in each visit.
In three to four weeks, it becomes necessary to reevaluate the health of the gums as well as measure the gum pockets. If there is any need for additional treatment, it would be diagnosed and discussed with the patient at the appropriate time. At Beverly Hills Periodontics & Dental Implant Center, we seek to educate our patients about the full impact of their diagnosis, and outline a comprehensive treatment plan in order to ensure successful results for periodontal disease in Los Angeles.
While we have made a name for ourselves specializing in periodontal disease treatment, we also attend to the needs of patients with missing teeth and deficient dentures. A soft tissue graft is a common surgical procedure periodontal treatment centers use in order to halt the negative effects of periodontal gum disease, and prevent further gum recession and bone loss.
Under certain circumstances, a dental bone graft may be required before a patient can undergo full-fledged dental implant surgery. Dental bone grafts work to strengthen jaws that are too soft or weak to support the kind of rapid chewing movements that would be necessary for an implant to be effective.
Visiting Beverly Hills Periodontics & Dental Implant Center
An initial consultation at Beverly Hills Periodontics & Dental Implant Center can last slightly longer than an hour. When visiting for the first time, patients will be asked to provide the staff with their insurance information, as well as a general medical and dental history. After filling out some paperwork and reviewing privacy policies and disclosure forms, the patient will check in with Dr. Peiman Soleymani for a complete oral examination. An expert periodontist, gum disease is Dr. Solemani's forte. Upon inspection, the doctor will be able to assess the scope of the damage and prescribe a plan for treatment.
If you are interested in learning more about how we can help alleviate your periodontal disease, Beverly Hills Periodontics & Dental Implant Center can be reached by dialing 310-275-4606, or feel free to visit our contact page and submit an online inquiry today.